Nikita Tszyu and Dylan Biggs have both made weight before their meeting for the Australian super welterweight title, but it wasn't without drama.
The main drawcards were the final pair of fighters to weigh in, but the drama took place well beforehand when a second set of scales was brought onto the stage.
There was tension aplenty when the second scale made an appearance as figures from both camps got involved in heated discussions before calmer heads prevailed.
READ MORE: World Cup's baffling snub for Aussie hero
READ MORE: American billionaire secures A-Leagues licence
READ MORE: Broncos end ugly standoff as Origin star re-signs
The scenes with multiple scales were described as "farcical" by Peter Badel on Fox Sports' coverage of the weigh-in.
Tszyu's manager Glen Jennings also hit out, slamming the Biggs camp for creating what he deemed to be a "soap opera".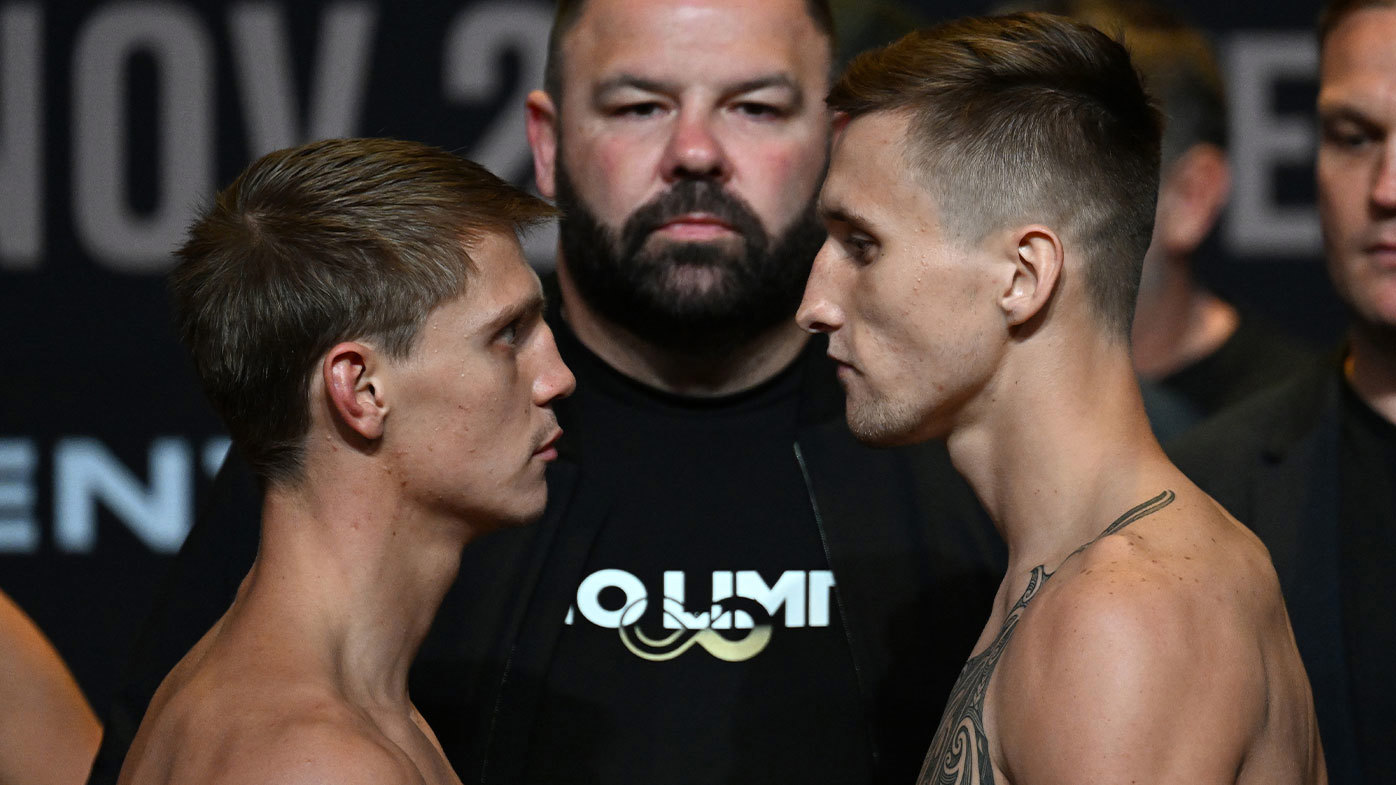 "Every day another drama, another complaint, another whinge, another moan," he said.
"At the end of the day, the boys respect each other. Don't doubt that one little bit. All that other noise and that consistent stuff tells us one thing: that the fight is not always won in the ring.
"Someone's parked in someone's headspace for that to be coming up all the time. Every day it's something else.
"Today it was the scales, yesterday it was the officials, it's non-stop. That just tells us maybe they're trying to take a bit of pressure off their 21-year-old who's struggling under the lights. Who knows?
"At the end of the day, the boys have great respect for each other and the sport, the rest of it is noise. Who walks out first? Who walks out second? Who gets on the scales first? Who plays their music first? Give it a break, it's just soap opera. Noise, noise, noise."
Jennings also hit out at Biggs for not playing his part in selling the fight.
"If they choose to come here and zip up and say nothing, so be it, but don't expect to be on these big cards ever again. Someone's got to pay the bills," he said.
"You've got to sell these bloody things, it's not just sitting on the lounge, you've got to sell these fights.
"This kid (Tszyu) has carried this fight all the way, the other bloke doesn't want to talk, doesn't want to do a video promo. His name is on the bill first because he's carried it."
Biggs refused to buy into Jennings' comments, saying he saw "fear" in Tszyu's eyes at the weigh-in.
"I think he's just realised there is zero chance that he can rattle me," he said.
"Mentally and physically, I'm just unbreakable. I've done it all from the bottom and my mind is stronger than anything."
Tszyu clocked in at 69.60kg, while Biggs was slightly lighter at 69.46kg.
"I'm coping unreal," Biggs said ahead of what many have called the biggest fight of his career.
"It's been a good camp, the weight has been coming off well. I'm just ready to get hands-on.
"The time for talking is done, it's fight time, so I'm ready."
Tszyu was asked what was going to happen in the fight and offered a one-word response: "victory".
The two fighters will square off on Wednesday night at the Newcastle Entertainment Centre.