NRL boss Andrew Abdo remains hopeful the grand final can go ahead at Suncorp Stadium on Sunday, but says any lockdown of Brisbane announced after today would trigger a postponement.
The Queensland government yesterday introduced restrictions in the Brisbane area, capping Suncorp Stadium at 75 per cent of its capacity for the match. That means a reduction from 52,000 fans to 39,000.
That's in response to a growing COVID-19 cluster, with six local cases announced yesterday.
Speaking on Nine's Today, Abdo said the grand final would go ahead in Brisbane even if the capacity was reduced further.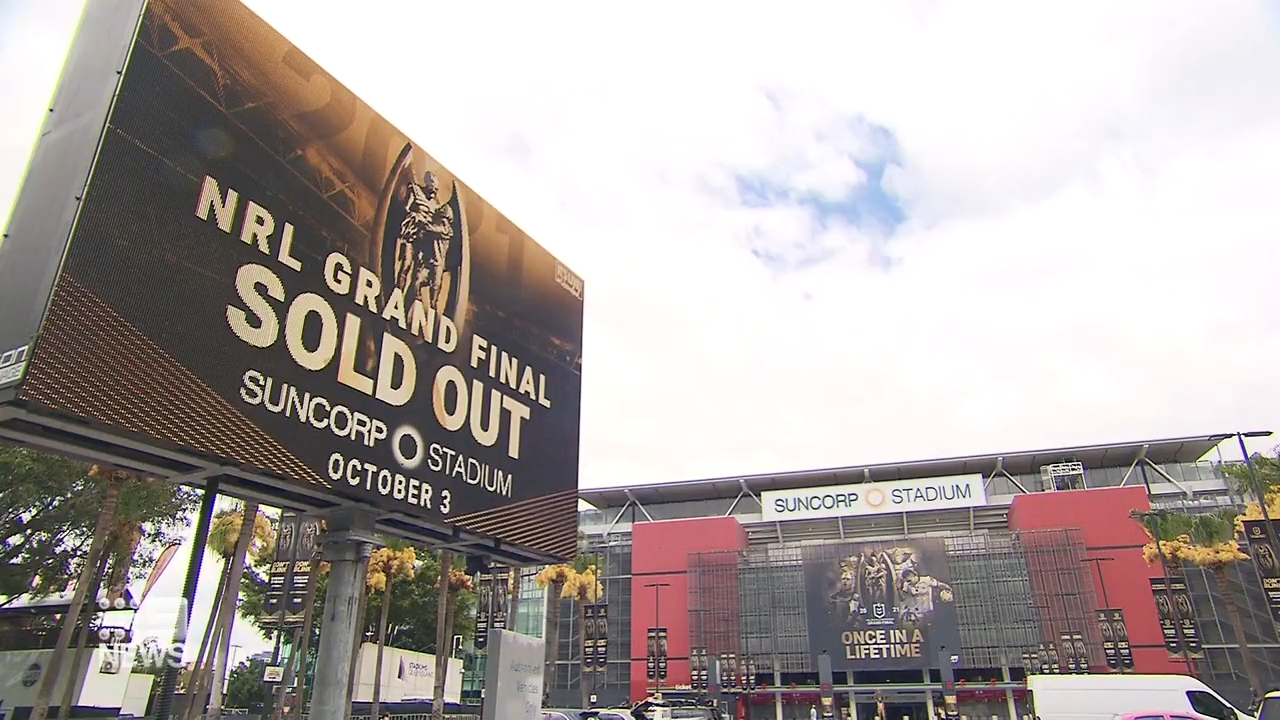 "At this stage 75 per cent crowd, if that drops to 50 per cent, our aim is still to continue playing on Sunday," he said.
"If there's a lockdown, and we see the infection rates rise, then we will have to react accordingly.
"It is a grand final, and we've got to think about our fans, so the contingency plan for us would then be to potentially postpone the match, and possibly play the match in Townsville, if we're able to play in front of a crowd there."
READ MORE: Suncorp Stadium to be limited to 75 per cent capacity for NRL grand final
READ MORE: Cristiano Ronaldo blasts stoppage time winner in Champions League
READ MORE: Argentina players locked out of Queensland days before Test against Wallabies
Queensland's chief health officer has already flagged that the grand final won't be a consideration for her when she considers whether or not to send Brisbane into lockdown.
But according to Abdo, any lockdown after Saturday morning would be too late to move the game to Townsville.
"We want to play to play at Suncorp, and we want to play in front of a crowd," he said.
"If there's a lockdown that happens from tomorrow, then I think postponement becomes a realistic option, we can move (to Townsville) quickly, we know that, but we can't put on a grand final within 24 hours.
"It's not fair to the fans in Townsville, and it's not fair to the teams in terms of their preparation.
"We'd need to make sure the move is done professionally."
While Townsville remains 'Plan B' for the NRL, that region has also had restrictions introduced after an airline worker who tested positive to COVID-19 visited Townsville.
"We are watching this on an hourly basis, and any decisions we make will be made with people's health and safety in mind," Abdo said.
"Clearly the commission wants to make sure we provide a fitting end to the season as well."
For a daily dose of the best of the breaking news and exclusive content from Wide World of Sports, subscribe to our newsletter by clicking here!